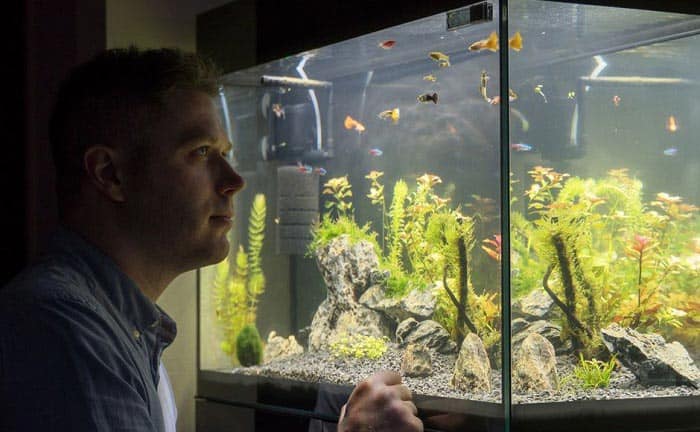 The 55 gallon fish tanks is one of the best introduction tanks to have when transitioning from midsized tanks and into the large tanks. While being a favored entry to the large tank collecting part of the hobby, it is also a commendable and reliable tank even for the beginners.
Because of its large size, it can prove easier to clean than the smaller tanks. Its size also allows for creativity with more complex aesthetic themes, with the space being able to provide proper accommodation to design items you might like in the future. So without further ado, here is a list of the best 55 gallon fish tank choices.
Best 55 Gallon Fish Tank Reviews 2020
If you are searching for the best 55 gallon aquarium to house your precious collection of fish, there is no better tank kit for you than the Tetra 55 Gallon Aquarium Kit.
I love so many things about this particular fish tank. First is the classic design. Most of the tank available in the market these days have a modern look. Not that I'm complaining but I really miss the old design sometimes. The tank included in this kit provides a good throwback on the good old days when the aquarium doesn't have the complicated designs.
If you want to create a healthy community of fish in your very own tank, there is no better product that can help you achieve your goal than the 55 gallon Aqua Culture Aquarium Starter Kit.
Fishkeepers, both amateur and professional, will love this 55 gallon starter kit. The tank is absolutely durable. The glass can withstand the pressure that 55 gallons of water consistently exert. The sealing on the aquarium was properly done and I am extremely confident that water won't leak from it anytime. Furthermore, the glass is scratch proof so pets won't be putting any claw marks on any visible side of the tank.
If you are on a strict budget but still dream of expanding your fishkeeping hobby, you certainly need an affordable tank. The SeaClear Acrylic Aquarium Combo Set will help you realize your dream without straining your wallet in the process.
What I really like about this fantastic tank kit is the material used in making the aquarium. This one is made of acrylic, which means it's lightweight and more durable than glass. Furthermore, acrylic is very easy to manufacture and assemble. The tank's surface, on the other hand, is highly comparable to a glass tank. It is clear and scratch-resistant. It also doesn't turn opaque even after many years of use.
If you are a fishkeeper, you must always be ready to face the challenge of breeding your fish. For this task, you need a reliable 55 gallon tall fish tank. Of all the available tanks in the market today, only the Starfire Aquariums can help you breed your fish successfully.
I really like this 55 gallon tank. The glass is very durable, which means I don't need to worry about the tank breaking due to the pressure the water constantly exerts. Also, the tank is spacious enough to accommodate fish. This is enough to let the spawns stay inside the tank for a while until they are mature enough to warrant transfer.
The cabinet is something that you don't regularly encounter on 50 gallon aquarium kit products in the market. This feature provides extra space for other important items that are necessary for fishkeeping. If you want something like this in your own collection, the best product to try is definitely SCA 50 Gallon Starfire Glass.
The first thing I love about this product is the variants. These choices allow the buyers to decide if they want a glass tank or an acrylic one. Because I am a traditional fishkeeper, I chose the glass tank. I am glad that it is very sturdy, always clear, and scratch-proof. In addition, the cabinet provides extra space. This can be used to store the important accessories needed to maintain the aquarium. It also functions as a stand so that the tank stands tall.
If you are looking for a spacious tank to house your aquatic pets, the best tank that can provide you what you need is SeaClear System II Acrylic Aquarium.
This tank kit has so many adorable features. One of which is the tank. It is made of acrylic, which means it is sturdier and more lightweight compared to traditional glass tanks. I really enjoy using this tank because I can easily lift it during maintenance sessions.
If you are looking for an extra 55 gallon glass fish tank to showcase your fish collection, there is no better product that you can purchase than the Seapora 59212 Standard Show Aquarium.
I have tremendously enjoyed using this tank. The glass material is durable enough to withstand accidental bumps. Moreover, the interior is very spacious for up to 55 fish. The design is a throwback to classic aquarium designs. It has an extravagant black plastic cladding on the bottom of the tank to conceal the silicone sealing.
Are you looking for a good aquarium kit to start your fishkeeping prospects? This wonderful product called Starter Fish Aquarium Tank will help you achieve your goals this year.
This particular product has so many remarkable features that I know both amateurs and professionals will like. First of which is the tank. Made of durable glass, the aquarium has a classic look. Also, the interior is truly spacious; perfect for housing many fish at the same time. It has a reliable cover that will protect the fish from outside threats and prevent it from escaping the tank.
What To Look For When Buying A 55 Gallon Fish Tank ?
A lot can be done with the 55 gallon fish tank, and with that premise, it is no surprise that the 55 gallon fish tank is well known in our hobby. If you are researching what to look for when buying a 55 gallon fish tank, then you have started at the right place. Through years of tank collecting, I have a few pointers to look over for your next tank buy!
The Proper Placement
The 55 gallon fish tank is a large tank. Not just large in size, but also in tank classification. Since it is big and will be quite heavy (with or without water), you would probably have to commit to just one location for its placement. Taking into consideration the practicality, think of how the spot's light and temperature will affect your fish tank. Also, since the 55 gallon fish tank is quite heavy, you would have to consider its weight and the support the tank stand or the holder will provide.
Although these factors may seem trivial, it is important to look into it.
The other factors when considering the tank's placement is the aesthetic value. As it is known, a well-kept fish tank can provide the owner (and the owner's friends!) with freshly vivid scenery. It can work as a stress reliever, an icebreaker, and aesthetic addition to a room, among others! And so when looking for a proper spot, remember this factor.
Before buying the tank, plan ahead for its placement as it would be a commitment.
The Right Dimensions
Since the 55 gallon fish tank is quite popular, there are a number of variations in the market that are suitable for you. Given that one of the most known issues when it comes to tank collecting is the space, the variations for the 55 gallon tank can prove to be a lifesaver for some.
There are three common 55 gallon fish tanks that hobbyists are quite familiar with.
First, there is the 55 gallon rectangular fish tank.
Probably the most known among the three, this is the 'traditional' variation as it is known by many. Its square shape is mostly utilized for the large space it provides that allows for a set design leaning toward the horizontal orientation.
The second variation is the 55 gallon corner tank.
With typical dimensions of 40 x, 39 x 54 in inches, the 55 gallon corner tank resembles an old television that is set on a corner. The shape of the tank's back allows for a fit placement on a corner, and the curved front part gives a smoother finish for the whole tank while also providing unique visuals on what is inside. If you want to liven up a room's corner without sacrificing much space, then opt for the 55 gallon corner fish tank.
The third variation of the 55 gallon fish tank is the hexagon tank.
The 55 gallon hexagon tank stands at 25 x 29 x 24 in inches and is probably the most unique among the three in terms of placement. With its quirky and eye-catching shape, the 55 gallon tank can prove to be versatile and flexible in terms of place. It can stand proudly in a hall, in a corner, in a side, near a shelf, it would look great anywhere! It is the right option for you if you wish to utilize its tall design for your aesthetic tastes.
Since the 55 gallon tank is available in multiple variations, it can be helpful for those who are facing space issues or just plain looking for a different challenge for your next tank.
The Right Equipment
As the tank gets bigger, it somehow becomes more difficult to find an all-in set that is available in-store. What this basically means is that while the small tanks can usually be bought as a part of a whole set-up kit, the same could not be said for most 55 gallon fish tanks. With the larger tanks, you would have to find and put together the set by finding individual equipment. So what are the basic equipment that you might need for a 55 gallon fish tank?
LID – A tight lid is an owner's friend. Aside from the obvious reason of keeping the fishes from jumping out, it also provides a roof for the tank, keeping it clean and uncontaminated.
AQUARIUM STAND – The 55 gallon fish tank is quite heavy. Empty, it might weigh somewhere between 70 to 78 lbs, depending on the make. When filled with water, fish, equipment and other stuff, it may weigh upwards of 630 lbs. Because of this weight, it needs a sturdy stand that can safely hold its weight. Finding an aquarium stand made for the 55 gallon fish tank can provide proper safety and security for both the owner and the little fishies.
HEATER – The use of a heater depends on the temperature of your location. Mostly it is used in freshwater or saltwater tanks that are in an area where the temperature might be fickle, or just plain cold.
LIGHTING – Lighting might seem trivial at first, but it is actually an integral part of the tank. Since different fishes react differently to light, be it due to their natural habitat, biology, or just behavior, it is important to use proper lighting depending on the stock of fish you have.
FILTER – Probably the most important of all the tank equipment, the filter is the owner's best friend when it comes to keeping the tank clean and non-toxic for the fishes. Find a filter that can support a 55 gallon tank in order to create a great environment for your pets.
Where to buy?
50 gallon tanks are pretty bulky, which is why many local pet stores don't usually stock up on these tanks. You'll be lucky to find one at Walmart, Home Depot, PetSmart and PetCo. If you want a sure-buy though, I would recommend buying from Amazon.com.
Conclusion
If you're coming from mid-sized aquariums and then venturing into full-time large fish tanks, choosing the best 55 gallon fish tank can be intimidating. But having this big of a tank is a wonder to behold, whether at home or at the office. So don't let fear get in the way of owning large tanks with beautiful full-sized fishes! Choose any from my top list above and you'll be confident you're owning one of the best.