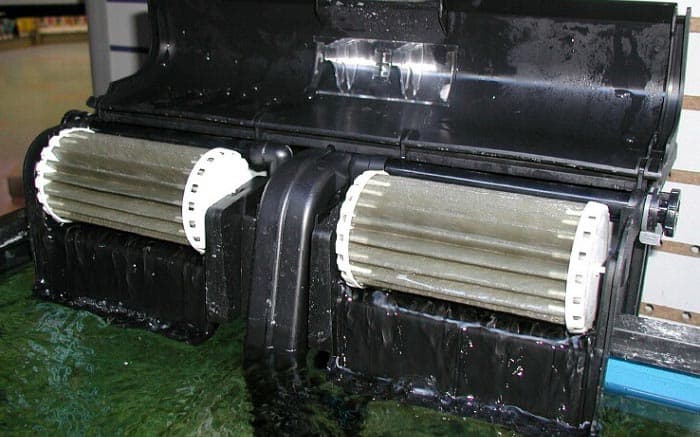 One of the most basic yet considered very exhaustive filters when it comes to keeping an aquarium is none other than the best aquarium power filter. If you are new in aquarium keeping, this article can help you explore more on how this device can help you keep a safe and healthy environment for your finned friends and aquatic plants.
First and foremost, keeping various fish species in an aquarium is unquestionably a delighting experience and those engrossed in the hobby generally starts out with a basic tank and a reliable power filter. Once you were able to get the right power filter for your tank, this could help incorporate the primary phases of the nitrogen cycle and shall keep your aquarium pets safe and sound.
As you might already know, in a basic aquarium setup, the power filter is perceived as the focal point of your system. This is the reason why it makes sense to carefully pick the one that is dependable, capable of catering to the needs of your tank and, of course, a device that won't put a big hole in your pocket.
Continue exploring the ten power filter reviews below and also check out some vital information and buying guides to help you ease your shopping experience.
Best Aquarium Power Filter Reviews 2020
This power filter is the best if you're looking for an uncomplicated three-stage filtration. It can execute biological, chemical and mechanical filtration for your tank. In the same way, the cartridges equipped in this device are especially designed to help get rid of foul smell, debris and discoloration inside the aquarium and this can be done through mechanical and chemical filtration.
It is worth noting that each filter is furnished with rapidly performing carbon. This conveys that it is quite helpful in terms of beefing up efficiency. Meanwhile, when it comes to biological filtration, take note that this device works excellently at eradicating higher levels of ammonia and nitrite.
Comes with BIO-wheel design that aids in nitrifying bacteria to stimulate growth
Ideal option for anyone keeping a tank that contains 50 by up to 70 gallons of water
Filter installation is a breeze
Enables users to utilize 4 cartridges simultaneously
Capable of delivering easy biological, chemical and mechanical fish tank filtration
This power filter from Aqua Clear is specifically equipped with activated carbon, AquaClear foam, cycle guard and BioMax that enables unceasing biological filtration and superb water quality. Its re-filtration system allows it to provide maximum contact period with filter media and its energy-reducing pump is quite functional and reliable to utilize.
Once you purchased this item, it is backed up by a two-year warranty and it is actually highly recommended for anyone keeping an aquarium that could contain by up to 110 gallons of water. What is more, it comes in varied sizes that could suit specific tank size. Keep in mind that this pump is well-fitted to be utilized in water temperatures by up to 35 degree Celsius.
Good option for those who are on a budget
Smooth sailing to set up
Does not necessitate roomy space
Helps reduce operational costs since it's quite energy-efficient
Capable of executing all the requirements of filtration
Shopping for the most appropriate internal power filters for aquarium can be a nightmare especially if you know for yourself that you aren't that expert when it comes to picking one. Luckily, with this brand, you won't feel disappointed in the end.
What makes this an ideal pick is that it is capable of getting rid of nitrites, ammonia, residues and other chemicals, discoloration and foul odors inside the tank. As of its size, it is very small so it won't consume more space; but the filtration unit is used internally which implies that if you are currently keeping a smaller tank, you may need to consider this occurrence.
Designed with auto-start pump that does not need priming and reboots automatically when power is interrupted
Built with top quality processing power that works exceptionally
Carbon cartridge aids in alleviating tank water discoloration and bad smell
Can guarantee significant amount of filtration capacity for smaller tanks
Capable of filtering and clearing the tank water in no time
Aqua-Tech Power Aquarium Filter is equipped with 3 filter cartridges that are quite easy to replace. This does a sterling job at improving tank water movement, filtration and circulation. Aside from these, the components of the filter are sturdy and top quality. As of the filters, these are a piece of cake to replace. They are adept at trapping wastes, various sorts of toxins, and foul odor. And, they could also cover more ground than activated carbon.
If compared with other similar products, this operates silently. The intake tube plus other inserts are absolutely no trouble to place. In other words, installation and maintenance is not something to be exhausted about and at the same time you can just relax and enjoy its wonderful job.
Built with advanced and gilt-edge three-step filtration
Highly recommended for anyone keeping an aquarium that contains 30 by up to 60 gallons of water
Does a great job at wiping out impurities and wastes inside the tank
Supported by a two-year warranty
Offers supreme water to carbon contact
This power filter makes use of tiny filter cartridges that users could easily adjust to low or high levels of water. And, it is built with 26 gallons per hour pump that can cycle a tank containing 4 gallons of water over six times per hour. Since it is made with space-saving design and the internal filter is made to be possibly clipped on the tank, you can easily hide it inside the aquarium.
More than that, this is designed having two filters in one. The ultra-activated carbon is responsible for eliminating tank water discoloration and foul smell while the cartridge floss is the one that traps fish droppings and other sorts of residues. This is an economical option in that it already includes the required accessories that enable the device to operate on its full potential such as the internal filter, hinged lid, filter cartridge, and the tank clip.
Highly practical to use for aquariums that contain 4 gallons of water
Equipped with 25 Gallons per Hour pump
Made having space-saving design that makes it ideal for smaller tanks
All necessary accessories are already contained in the box
Built having two filters in one
Undeniably, it could be physically and mentally draining to search for the most suitable power filters for aquariums given there are limitless options that are sold on the market at present. This version for Marina is a great choice for you to consider.
Surely, there are several reasons to love about this product. This will be best bang for the money because it is an A1 product that is primarily designed to keep the tank water clean and safe for your fish. It comes with a compact and slim design that works superbly for tight gaps. And, it is built with Ceramitek that can superiorly execute biological filtration.
Designed with easy-to-adjust flow control features
Plain sailing to maintain
Easy to customize
Specifically made for aquariums containing by up to ten gallons of water
Avant-garde filter with modification
This Fluval C Power Filter is built with ceramic heater core that is intended to provide effective as well as balanced heat dispersion inside the tank. Many smart aquarists prefer this brand because it is designed with every exclusive filtration technology that can provide maximum results. It is a child's play to set up and maintaining it is not burdensome. It is perceived as one great solution to keep your tank water clean and safe for your aquarium pets and plants.
If you want to shop for a hang-on-back filter that is highly recommended for heavily stock tanks, then you do not need to prolong your search. This device is especially engineered with remarkable processing power and it already includes three primary kinds of filtration. As a matter of fact, this is a very cost-effective option in that it is made with 5-stage filtration system to ensure pristine clear water for the tank.
Does an awesome job at ensuring a stress-free hub for your aquatic pets and plants
Constructed with clip on filter, easy and quick to maintain
Capable of filtering by up to a total of 119 gallons per hour
Designed with cleaning indicator that notifies the time when polyfoam has to be washed off
Reliable at sustaining clear and safe tank water
This power filter for fish tank is self-priming, this simply implies that it is not cumbersome to install. It is actually created to have the capability to shield against leaks and is also meant to supply higher flow rate for a greater content of oxygen that your finned buddies will definitely love.
It is worth mentioning that this filter is made with auto-start-up feature which is specifically practical for anyone residing in an area that is susceptible to power interruptions more often. As you know, there is no need to start the filter manually every time the electricity comes back on
Built with LED indicator light that alerts users to replace the congested cartridges
Can guarantee flow rates that help in properly circulating the water
Offers biological, chemical and mechanical filtration and is also equipped with Aqueon specialty pads
Automatically starts up after power interruptions or after cleaning
Made with internal pump that aids in alleviating leaks and noise
This aquarium filter is very convenient, useful and reliable for fish tanks that contain by up to 50 gallons of water. This is not that complex to install so long as you strictly adhere to the product's manual or watch the instructional video on how to properly set it up. In addition to this, it is equipped with two piece vented cover that allows easy access to the cartridges and this also aids in drowning out some of the irking sound that the device generates while working.
Its three-phase cleaning system is admired by countless of newbies and pros in aquarium keeping precisely because it can guarantee thorough cleaning. In fact, this could tremendously assist in reducing higher levels of nitrites, ammonia and other harmful wastes and residues that pollute the tank water.
Built with a distinctive filter operating system that cleans the aquarium exceptionally
Can be utilized for both freshwater and saltwater tanks
Practical to use made possible by its BIO-Wheel power filter
Can provide biological, chemical and mechanical filtration
Cartridges can be utilized readily with each filter
This aquarium filter is one-of-a-kind. You can't say anything negative about its intuitive filtration system that alerts users regarding the current condition of the cartridge without exerting much effort to do so. By the same token, this includes a Timestrip so there is no need to spend additional money. It is perceived as a flexible product that you can just easily plug in and it will start working at its best.
And, there are a total of 4 distinct sizes and capabilities which simply convey that you can immediately find the one that can meet your standards. Fundamentally, once your selected power filter reaches your place, all the things you will require to set it up are already contained in the box. You can also rely on the installation instructions that help make the setting up process a breeze to manage.
Utilizes two huge-sized carbon filters
Equipped with an intuitive filtration system
Specifically built for tanks that contain by up to 70 gallons of water
Works adeptly at straining out waste and filth from the tank water
Can be used readily once unboxed
What To Look For When Buying An Aquarium Power Filter ?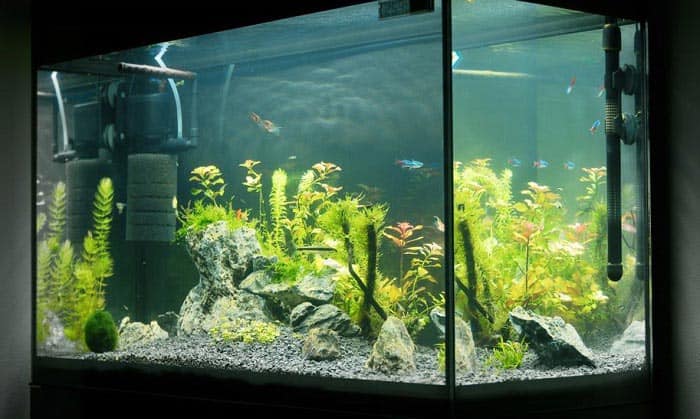 When shopping, there are some buying guides that you need look into first so that you can be assured that you can get the best possible option that can satisfy all your requirements and expectations. The same goes when looking for an aquarium power filter that can suit your tank needs and preference.
Here are some of the purchasing considerations that can help you find the right choice for a reliable and top quality aquarium power filter:
Budget.
Not to mention, this is usually the first thing that comes in mind when you think of shopping. This could help you easily decide which option to buy since this indicates the amount of money you currently have to invest in a power filter.
Kinds of filtration.
There are different types of filtration namely biological, chemical and mechanical filtration.
Biological filtration focuses and strains microlife that are present in the aquarium such as hazardous byproducts from fish and other kinds of waste inside the tank.
Chemical filtration targets undesired, poisonous and dangerous chemicals in the water that generally have significant effect in the quality of tank water.
Mechanical filtration helps get rid of water particulates and aid in sustaining clear and safe tank water.
Capacity.
Aquarium power filters are precisely built to work within a specific power range. It is essential to understand that the "strength" is commonly penned in actual units of power like volt or as the capacity the device could support.
Thus, it matters to select a filter that is capable enough to support the size of your tank or larger than it. It is not advised to utilize an aquarium filter that is meant for small aquarium sizes.
Kinds of aquarium filter.
Aquarium filters can be purchased in different forms hinging on its purpose of use. Indeed, the most typical forms of aquarium filters comprise of hang-on-back filters, under gravel filters, canister filters, internal filters, and wet or dry filters.
For you to come up with the right decision, it is crucial to know what you intend to utilize the power filter for.
Is it a breeze to install and operate?
Admit it or not, not all aquarium keepers are adept at handling various aquarium-related chores. So, if you're still a newbie; hang-on-back and internal filters are great options to look through because these are the easiest to set up.
For a fact, canister filters and wet or dry filters are generally reserved for tanks that are bigger in size and could hold a total of 100 gallons of water. And, these are more intricate to set up too.
Meanwhile, under gravel filters are slightly more tedious to handle and they especially require to be set up prior to filling the aquarium.
Why do you need a power filter for aquarium?
As already previously discussed, aquarium power filters are necessary to invest in when you're keeping an aquarium because they execute very valuable job in keeping a clean, safe and healthy hub for various fish species and aquatic plants dwelling inside the tank. And, some more of the perks that you can obtain if you invest in a high quality filter includes the following:
Ease of installation, cleaning and maintenance
Do not come in very expensive price tags
Can be instantly hanged on the back of the tank
Can help in boosting water surface agitation
Safe for aquarium pets and plants
Reliable to use and user-friendly for newbies
Where to buy aquarium power filter?
Fortunately, there are available power filters on the market that are quite reliable and durable these days. Perhaps, the only problem that you may encounter when shopping for one is picking the suitable device for you considering there are a plenty of options that you can select from.
Power filters can be bought in local fish or pet stores neighboring your place. Visiting one of these shops can offer you a few brands to pick from. However, if you want to search for them on the web, you can start shopping from trusted online shopping sites such as Amazon, Walmart, Lowes, eBay, Petsmart, Petco and many other sites trusted by millions of consumers worldwide.
Conclusion
The best aquarium power filters are popularity sold as compared to other forms of filters. Their low price, ease of installation as well as maintenance plus, of course, their numerous optional features; all these are just a few of the reasons why both newbies and pros in the aquarium hobby can't go without this device to help take better care of their aquarium pets.
As clearly discussed in this article, looking for the right, functional and reliable power filter can greatly assist in keeping the tank water pristine clear and a healthy hub for various fish and aquatic plants to thrive in. Indeed, such device will provide the necessary biological, chemical and mechanical filtration for your finned friends and aquarium plants to stay safer, healthier and livelier.
With the product reviews and buying guides detailed in this post, you can certainly ease the burden of searching for the right option for you. Happy shopping!